A FROZEN CRAFT SMOOTHIE PREPARED BY YOU IN 60 seconds OR LESS
An almost instant fruit and vegetable smoothie made from 100% whole non-GMO fruits and vegetables sourced at their peak nutrition and without refined sugars, preservatives or additives. 
Blast freezed to lock in freshness, nutrients and flavour.
Use Frozen
Never Thaw
Break into at least two pieces, so it doesn't  spin in the blender!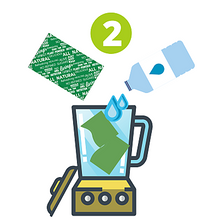 Add Water
Use any blending tool
Pour frozen pieces of smoothies into blender or cup.  Add 180ml of water. 
BLEND
Blend until smooth
Using a blender, blend for 30 seconds.  Using a fork, blend for 60 seconds. 
Living Farmacy's smoothies all taste phenomenal. I thought I didn't like kale! The ingredients are chalk full of antioxidants so I know drinking them is good for my body.
Dr. Romi Raina, ND
Living Farmacy's smoothies are unlike anything I have ever tasted before. Each flavour combination is unique, vibrant and nuanced and the smoothies always leave me feeling energized and filled with veggie-fruity goodness. I recommend them to any one I can: people who are tired of grassy, sour or overly sweet will be surprised at how complex Living Farmacy's smoothies are. I also love how they make getting my daily vegetable quota a breeze. Each smoothie is jammed packed with nutrients for healthy bodies. Living Farmacy is always an invigorating option for me when I am on the go. Plus, made in Toronto, I love that I can support a local business that helps me support a healthy lifestyle.
Alison BELLAIRE
You tricked me into eating/drinking veggies!
Gabby
You neglected to tell me your smoothies are also addictive, Kim - because they are all gone! I had two before playing golf last night and wasn't hungry for the evening. Had two this morning in lieu of breakfast and my body felt "drenched with goodness" .... I'd never would have believed that a drink with 9-11 vegetables, fruits and herbs could be anything but gross. But I think you've nailed health, convenience and taste.
Ian BELL
Former VP, Marketing Health Services Division, CARA OPERATIONS LTD.
I LOVE your smoothies. Healthy, tasty and looks great!
David Zimmer
MPP, Minister of Indigenous Relations & Reconcilation
I can have these all the time!!
Saeed
Vegan Festival, Toronto Ontario
Best smoothie of my life!
Megan
I would drink your smoothies for every meal, everyday! SOOOOO GOOD!
Camille Balela
Vegan Festival, Toronto, Ontario
Delicious flavours, perfectly paired veggies and fruits
Bernie B.
SELECT YOUR PLAN
Our craft smoothies are an easy way to eat
approximately two servings of fruits & vegetables
. Unlike cold-pressed juice, they contain all the fruit and veggie fibers -- helping you stay full longer.
Purchase our smoothies in groupings of 10, 15 and 20 - you pick your flavours.
Get free shipping & save with any Subscription Plans.
Select your desired frequency, pause or cancel anytime.
We currently ship to Ontario & Quebec. For areas outside of these provinces, please contact us directly for shipping rates.
We deliver within Ontario on Wednesdays to Saturdays using a refrigerated truck. We ship using Fedex once a week (Tuesdays) to Quebec.
Flavours
Perfectly crafted unique flavour combinations.  Fruits take center stage, while vegetables play a hefty supporting role. 
MAKE A SMOOTHIE IN SECONDS
With any blender, it takes just 60 seconds or less.   Once blended, best to consume immediately.  Smoothie is good for up to 12 hours when kept refrigerated