Health Benefits of Fruits and Vegetables
Fruits
Our smoothies star fruits to make it easier to eat your veggies!
Pear: PANCREAS PROTECTOR
Contains trace minerals and flavonoids. Aids in digestion by soothing the stomach and intestinal tract. Expels toxins and restores the liver. Helps relieve stress.

Strawberry: IMMUNITY BOOSTER
Contains folate, magnesium & antioxidants. One serving=150% of daily vitamin C. Defends against gout, cancer, tumor growth & high blood pressure.
Wild Blueberry: POTENT MEDICINE
Contains twice the amount of antioxidants of ordinary blueberries. Has the intelligence to assist the body in healing itself. Neutralizes free radicals and helps prevent cell damage.

Raspberry: HEART/HEAD SUPPORTER
Contains vitamin C, calcium, magnesium and iron. Prevents brain diseases. Protects heart valves and ventricles.

Apple: TOP ILLNESS FIGHTER
Contains Phytochemicals. Detoxes heavy metals. Cleanses colon and purifies organs. Repairs damaged skin.
Mango: ALKALIZER
Contains vitamin C, digestive enzymes and is packed with polyphenols. One cup of mango provides nearly 70% of the RDI for vitamin C. Aids in digestive health.

Lime: ALKALIZER
Contains potassium and magnesium. Helps fight infections. Helps with weight loss. Can help lower blood sugar.
Lemon: BLOOD PURIFIER
Contains vitamins C. Aids in metabolism, cleanses the liver and treats infections,indigestion and constipation.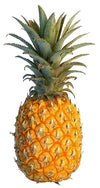 Pineapple: INFLAMMATION REDUCER
Contains vitamins C, potassium and beta-carotene. Anti-viral, anti-bacterial, anti- fungal and anti-parasite supporting a healthy system.
Coconut: IMMUNE SYSTEM SUPPORTER
Contains amino acids and proteins. Promotes blood sugar regulation. Reduces certain risk factors for heart disease. Is anti-viral, antibacterial, anti-fungal, and anti-parasite.
Vegetables
Veggies provide a supporting but knock-out nutritional punch

Zucchini: POWERFUL ANTIOXIDANT
Contains Vitamins A & C. Regulates blood sugar. Aids in weight loss. Keeps skin and hair beautiful.

Celery: ULTIMATE ELIMINATOR
Contains sodium and potassium. Alkalizes and moves toxins out of the gut. Restores blood PH.

Beet: BLOOD SUPERHIGHWAY
Contains Nitrates and Betalain. Turns blood vessels into superhighways for the blood. Increases stamina and circulation.
Spinach: VITALITY ENHANCER
Contains Vitamins K, A & C and folic acid. Lowers cancer risk and blood pressure. Regulates glucose levels and improves bone & eye health.

Rhubarb: SKIN STRENGTHENER
Contains Vitamins K & A. Promotes healthy skin, bones and mucous membranes. Enhances vision and neuron function in the brain.

Kale: CANCER FIGHTER
Contains more vitamin C than oranges and more calcium than milk. Can help lower cholesterol levels. Great for skin, vision and bones. Fights lung and oral cavity cancers.
Fennel: STROKE PREVENTION
Contains vitamin C and dietary fiber. Limits cholesterol buildup. Eliminates toxins from the colon.

Butternut Squash: CIRCULATION ENHANCER
Contains fiber, potassium and vitamins A & B6. Fat-burning and beneficial for digestion. Prevents high blood pressure. Helps keep bones strong.
Herbs & Spices
Herbs & spices amplify and deepen flavour

Basil: BACTERIA INHIBITOR
Contains vitamin A, B6 & C. Reduces inflammation. Has anti-aging and anti-bacterial properties.

Tarragon: HEART SUPPORTER
Contains vitamin A & C and B6. Contains antioxidants that help neutralize free radicals in the body. Helps support cardiovascular health.

Spearmint: DIGESTION BOOSTER
Contains magnesium, copper and vitamin C. Ease tummy aches. May help protect against harmful bacteria.
Tumeric: ANTIOXIDANT & INFLAMMATION REDUCER
Contains curcumin. Helps improve brain function. Lowers risk of brain diseases, cancer, arthritis and Alzheimer.

Ginger: INFLAMMATION REDUCER
Contains potassium, magnesium and B6. Eases inflammation, nausea and protects against stomach ulcers. Promotes proper digestion.

Cardamon: DETOXIFER
Contains phytonutrients and magnesium. Aids in bad breath and tooth decay. Improves blood circulation. Can relieve asthma.

Black Pepper: CURCUMIN ABSORPTION ENHANCER
Contains piperine. Boosts absorption of curcumin in turmeric. May lower cholesterol. Improves digestion. Relieves colds & coughs. Boosts metabolism.